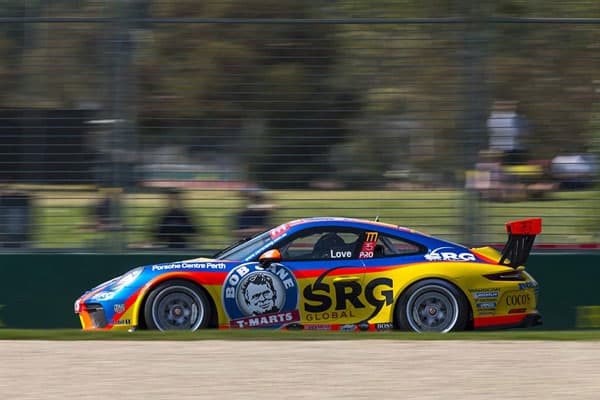 Title fights on as Love, Flack score back-to-back Bathurst wins
12 Oct 2019
|
News
|
Both the Professional and TAG Heuer Pro-Am title battles have come alive following race two in the penultimate round of the 2019 Porsche PAYCE Carrera Cup Australia Championship at Mount Panorama.
Jordan Love (Pro) and Adrian Flack (Pro-Am) both enhanced their title credentials by each taking their second race victories of the weekend – and both did it in crushing fashion.
Love led from pole position in today's nine-lap affair and, thanks in part to another stunning opening lap on cold Michelin tyres, built an early buffer he'd never lose.
It was his fifth-straight win – the second time he has achieved that feat this year – and his 10th of a remarkable season that in five races has seen him reduce a more than 200-point title deficit to series leader Dale Wood to just 29 points with four races remaining.
"It's what we needed to try and close this championship margin," Love said.
"I got a good start and the changes we made overnight were really good, so I'm happy we're going in the right direction and we'll make a few more for tomorrow and it should be good.
"It was a mega first lap but the car came on good early and we were able to get a bit of a margin.
"The guys behind then had a bit of a battle which let us do our own thing out in front which was great."
Championship leader Dale Wood had a tough race, having started fifth on the basis of his race one finishing position.
While his Polyfloor-supported Sonic Racing entry initially launched well, he bogged down moments after and was swamped by the field to cross the line 14th at the end of lap one.
He quickly commenced a process of working his way through the field and was able to salvage some points by finishing 9th.
While Love pulled away in his Sonic Porsche, the battle for second became a reversal of the one seen in race one as Cooper Murray fended off David Wall for the duration.
The McElrea racer passed the PAYCE-supported Wall Racing car on the opening lap and edged out a margin in the early laps, however the series champion surged as the race progressed.
The pair battled wheel-to-wheel on several occasions with Murray able to hold off several attacks to secure second. The pair are now locked together on 102 points for the weekend; the final race to decide the battle for second in the round tomorrow morning.
Nick McBride enjoyed a quiet race to finish fourth, while Thomas Maxwell made up several spots to grab fifth and finish in front of Steven Richards.
Adrian Flack won his second TAG Heuer Pro-Am race of the weekend – not having to rely on any last corner theatrics like race one to secure the seventh win of his season in Pro-Am. Talbot finished second for the second straight race while Roger Lago was third in class. Stephen Grove, third yesterday, was fourth with Tim Miles, Dean Cook and Sam Shahin producing an entertaining battle for fifth place that lasted much of the race.
Provisionally, the results move Flack to the lead in the TAG Heuer Pro-Am Championship, having entered the round tied on points with Talbot and 18 behind former leader Roger Lago.
"It's awesome, I didn't realise that – it's proof that if you keep winning the results come," Flack said.
"Once you get comfortable with the speed of some of those corners, it becomes quite fun and it's not quite as daunting as the end of the weekend.
"We trimmed the car up overnight and had a few ideas of how to make it better today and it certainly seemed to go quite well and we were able to stick with the pros and pull them in a bit, which was great."
Lago and Talbot are now tied in second position, just 12 points behind Flack with one race to go this weekend.
Arguably the drive of the day went to Cameron Hill, who having failed to finish race one was able to storm his way through the field to 10th position today.
The Michelin Junior driver made up four positions on the opening lap, sat 12th by mid race distance and climbed back into the top-10 with two laps remaining to keep him in contention for Sunday's decider.
Not quite so fortunate was Michael Almond, who was running seventh before he locked his rear brakes and spun at The Chase on the third lap. Though he was able to quickly recover, the Sonic driver dropped to 17th position at the finish.
That race, due to start at 10:05am local time, will be broadcast live on FOX Sports 506, Kayo Sports and Channel 10 around Australia and serves as the curtain-raiser to the Bathurst 1000 enduro.