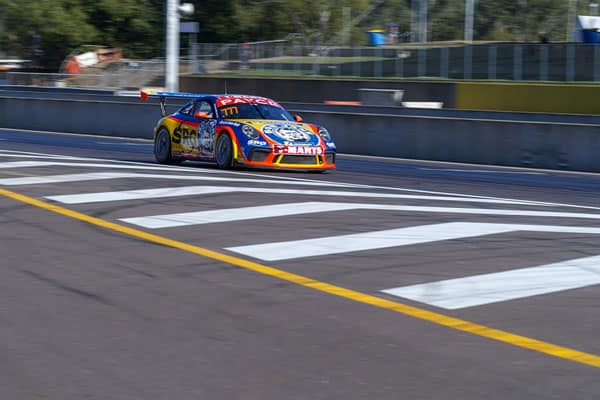 Redemption for Wood, Lago tops Pro-Am at Albert Park
17 Mar 2019
|
News
|
Last season, Dale Wood entered the fourth race at Albert Park with the round lead and was robbed of a round win after an opening corner crash. This year, the tables turned and second in the final race placed Wood on the top step of the Porsche PAYCE Carrera Cup Australia podium at the Formula 1 Australian Grand Prix alongside winning TAG Heuer Pro-Am racer Roger Lago.
While Wood took weekend honours, it was his young teammate Jordan Love who was the dominant driver of Sunday's final race with an impressive eight-second victory from Wood, while Michael Almond continued his charge through the field to place third.
"I'm super stoked to come away with the win here at Albert Park," said Wood. "It's our home round and one of the biggest events of the year. I've got all my sponsors here, all my supporters, my little boys and wife. I'm a very happy man.
"I came here thinking we could have a repeat of last year. Once I got through turn one into second, I thought that this is what I've got to do to hold to get the round win, so really happy to come away with that one. Philip Island was really good for us last year so I've got to do that again this year. We will celebrate this one, put it behind us and then put our head down and bum up for the 'Island' and hopefully we can catch some penguins."
Love secured second for the round and was the best placed Michelin Junior for the Michelin Super Round and will now venture to the FIA Formula E Berlin E-Prix as part of the prize for winning the Albert Park round.
Fourth place in race four handed Warren Luff the final position on the Albert Park round podium. After two rounds, Wood now holds a 39-point lead in the Outright and Pro standings over Michelin Junior Love, with David Wall 10 points further behind in third.
Roger Lago was the best of the TAG Heuer Pro-Am drivers across the Formula 1 Australian Grand Prix weekend. The Brisbane-based racer followed his Saturday race victory with another win on Sunday's race four to claim the class round win from Stephen Grove, who placed second in race four.
"It's a pretty good feeling to win the round, especially at the Australian Grand Prix. We were third quickest for the Pro-Ams in qualifying and Thursday's race was good, but Friday's race was awful. We then made some changes and the boys tuned the car up beautifully and yesterday's race and today's races were absolutely perfect and I've had a ball."
Anthony Gilbertson placed third in the final race from Dean Cook, Adrian Flack and Sam Shahin who, while dropping down the order in the final race to sixth in class, still narrowly secured the final position on the TAG Heuer Pro-Am podium.
While Gilbertson narrowly missed out on a podium position, the round one winner retains the lead of the TAG Heuer Pro-Am standings by 39 points over Stephen Grove, with Liam Talbot sits two points further behind in third.
Porsche PAYCE Carrera Cup Australia returns to the track for round three at Phillip Island on April 12-14, 2019.