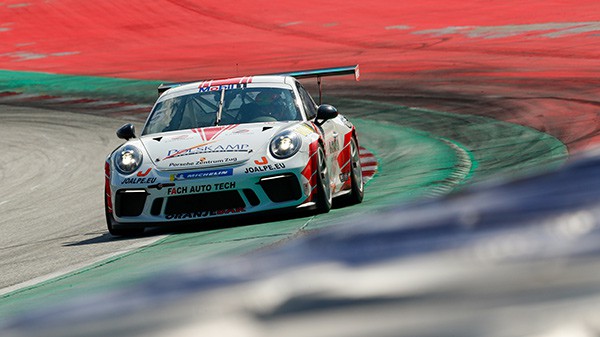 Porsche Supercup 2020: All there is to know
02 Jul 2020
|
News
|
At last, timeout is over: the Porsche Mobil 1 Supercup is commencing its new season and this year FACH AUTO TECH is again on the grid. Let's look at the most important questions.
Where's the season opener taking place?
Venue for the first race weekend is the Red Bull Ring in Austria. The event also sees Formula 1 back on track and their extensive hygiene concept makes racing action possible again. Green light for the race is on Sunday at 12:25.
How can I follow the Supercup race?
Eurosport is broadcasting live in more than 60 countries – including Switzerland and Germany. In addition, both Pay TV channels Sport1+ and Sky Sport, plus the streaming services F1.com and Sport1.de, will be available.
Who's racing?
Fans can look forward to a good blend of experienced stalwarts and success-hungry, young drivers. Dutchman Jaap van Lagen and Australian Jordan Love are competing for FACH AUTO TECH.
What does the racing calendar look like?
Competitors can expect eight races and a jam-packed schedule. Due to the Corona pandemic and the necessary cancellations and postponements, races will be on a weekly basis (with a few exceptions).
5 July Red Bull Ring (Austria)
12 July Red Bull Ring (Austria)
19 July Budapest (Hungary)
2 August Silverstone (UK)
9 August Silverstone (UK)
16 August Barcelona (Spain)
30 August Spa (Belgium)
7 September Monza (Italy)
What's changed?
Organizers are doing everything possible to avoid infections at the racetrack. For example, no spectators and only a very few media representatives will have access as a result. In addition, a racing squad such as FACH AUTO TECH will only be allowed to take a reduced number of team members to the circuit. All crew members will be regularly tested on site for COVID-19.
What does team boss Alex Fach have to say?
"We're really thrilled about things finally starting again. Recent weeks have been incredibly difficult because of so many big unknowns with conditions changing almost every day. And at long last, after all the organizational setbacks, the spotlight is moving back to sport again. We're highly motivated and aiming for good results right from the start."