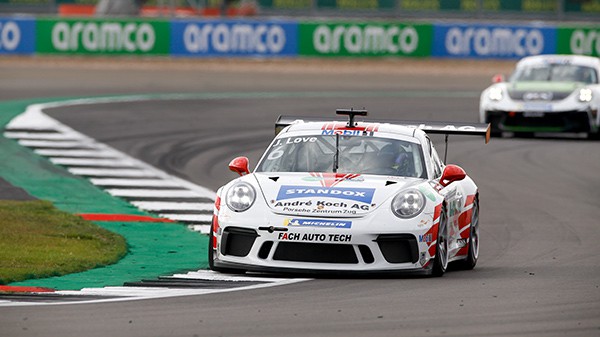 Next stop: Spain
13 Aug 2020
|
News
|
There's no time to rest up in the Porsche Mobil 1 Supercup. After two races in the UK, the international one-make series is making its way over to Spain where the sixth of eight rounds in the 2020 season will take place from 14 to 16 August. FACH AUTO TECH will be looking to put the difficulties of Silverstone behind them and return to winning ways in Barcelona.
"I think we fell short of our expectations over the past two rounds," said Alex Fach. "The Porsche Mobil 1 Supercup field is very tight, and every tiny mistake has a significant impact. Now we have a new track to contend with. We have some fond memories of Barcelona and it's time we found some form."
FACH AUTO TECH and Jaap van Lagen have finished on the podium before in Spain. Back in 2018, the Dutch driver qualified fourth and rose two positions during a hard-fought race to finish second.
For Jordan Love, the Circuit de Barcelona-Catalunya is an unknown quantity. Love's first season in the international one-make series is also his first year racing on European soil. The Catalonian circuit is all about its long start-finish straight, fast corners and tight chicanes and almost guarantees exciting racing.
The race weekend in Spain kicks off with Free Practice on Friday evening, followed by Qualifying on Saturday at 13:45. The race is scheduled to start at 12:25 on Sunday, 16 August. The race will be broadcast live on SPORT1, Eurosport 1 and Sky Sport as well as on the live stream.