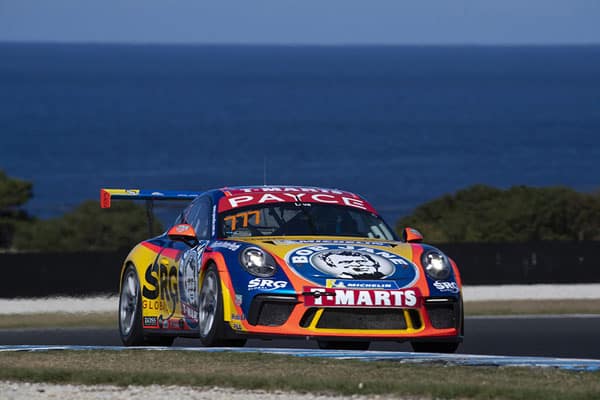 McBride and Gilbertson take repeat Adelaide wins
02 Mar 2019
|
News
|
Nick McBride has continued his impressive start to the 2019 Porsche PAYCE Carrera Cup Australia season with race two victory in Adelaide, while Anthony Gilbertson also maintained his TAG Heuer Pro-Am dominance with his second win in as many races.
The Porsche field lined up for the 10-lap sprint race in scorching 39 degree conditions. McBride made the most of the conditions to lead through the opening chicane complex – despite entering turn one side-by-side with David Wall – following a self-confessed sluggish race start. From there, McBride managed to build a small margin to Wall, which he maintained to the chequered flag.
McBride's win follows his impressive race one victory, which was his first on the streets of Adelaide despite winning the season-opening South Australian round in 2016.
"I absolutely stuffed up the start so I was lucky to get away with that. I managed to stay in front at turn one and from there it was a real sprint race, so head down and bum up. Again, the team gave me a rocketship carrying on from last year. Let's see what happens tomorrow," said McBride.
Despite a late charge for the lead, Wall secured second from Dale Wood and Warren Luff – the same top four result as Friday's opening race.
After a difficult race one, Jordan Love placed fifth to be the best placed of the Michelin Juniors in race two, while sixth place for Josh Hunt was the best race result for both the Perth based racer and his Sydney based Volante Rosso race team. Michelin Juniors Cameron Hill and Thomas Maxwell placed seventh and eighth while Cooper Murray, who placed fifth in race one, struggled to get off the start line and dropped down the order on the run to turn one. Murray recovered to place ninth, one position ahead of Michael Almond, who made his own charge through the field after a race one DNF saw the South Australian start race two from the rear of the grid.
Anthony Gilbertson was the best of the TAG Heuer Pro-Am drivers from the start of the race, managing to take the race win despite struggling in the final laps. Newcomer Liam Talbot was on a late-race charge and was almost in a position to challenge for the class lead, though Gilbertson was able to continue his wins streak and establish a 24-point class lead just two races into the season.
"Pole position, race one win and race two win; it's almost the perfect weekend so far. I'm as happy as Larry and can't wait for tomorrow," said Gilbertson.
"I was struggling with my rear tyres from about half way and I made a couple of errors from turn eight, on one occasion I accidently hit the down-shift from fifth to fourth mid-corner and it snapped the rear and the wall was looking really close at one point. From then I really buttoned off through that corner. I was letting Liam catch me to ensure I could finish and take the win."
Talbot placed second in class in his second Carrera Cup race from South Australian Sam Shahin, Stephen Grove, Roger Lago and Tim Miles.
One race remains for the first round of the Porsche PAYCE Carrera Cup Australia on the streets of Adelaide, which can be viewed live at 1:30pm ACDT on Sunday March 03 on both TEN and Fox Sports 506 and will also be streamed live on Kayo.