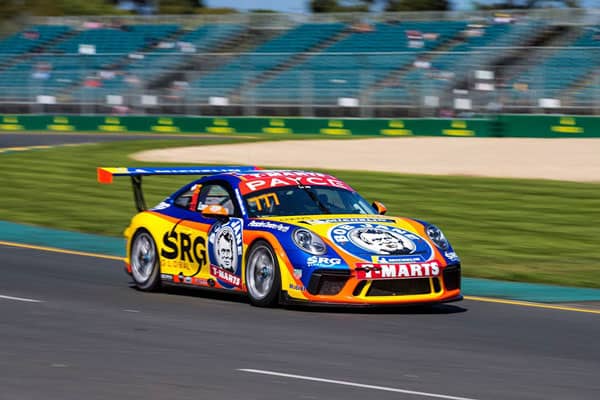 McBride and Gilbertson take opening Adelaide wins
01 Mar 2019
|
News
|
Nick McBride has started his 2019 Porsche PAYCE Carrera Cup Australia campaign with race one victory at the Adelaide 500, holding off a hard-charging David Wall in the 15-lap battle. Meanwhile, Anthony Gilbertson was the best of the TAG Heuer Pro-Am drivers, taking his first class race win on the streets of his home town.
Young Melbourne lawyer McBride started alongside pole-sitter Wall on the front row and quickly moved to the lead ahead of the opening corner. From there, McBride maintained the lead despite challenges from Wall.
The field was compacted after the safety car was called to the circuit to recover the stranded Tim Miles from the turn 11 gravel trap, though McBride was able to retain his position at the front to ultimately win and start the season in similar fashion to which he finished the last – taking round victory with two race wins from the 2018 Gold Coast finale.
"It was a perfect start to the season. Qualifying went pretty well this morning but I missed out on pole by a tenth to Wall. I got a decent start and managed to keep up a decent pace to stay in front of Wall. It certainly beats my race one last year here," said McBride, who was taken out of contention of race one in Carrera Cup's opening 2018 race.
"This just confirms that we've started 2019 where we left off in the Gold Coast last year. We always thoughts that we were quick enough to win races and be on the front row but as soon as a driver's confidence goes, the results just don't come. Hopefully we can continue this form tomorrow."
Pole-sitter Wall placed second from Dale Wood, who raced well to keep returning racer Warren Luff in his rear view mirror to the chequered flag. Luff placed fourth in his Carrera Cup return, holding off young gun Cooper Murray who, after passing Jordan Love early in the race, was the best placed of the four Michelin Juniors. Love placed sixth from Cameron Hill and Josh Hunt in eighth.
Ninth place outright was an impressive result for TAG Heuer Pro-Am winner Anthony Gilbertson, who claimed the first class win of his Carrera Cup career at the beginning of his second season in the championship.
"It's my first win of the season and my first Pro-Am win in Carrera Cup. Towards the end I was hanging on; it was getting pretty hot and slippery out there. To win in Adelaide, which is basically my home town, is incredible and I hope it continues over the next few days." said Gilbertson.
Former class champion Max Twigg placed second in the TAG Heuer Pro-Am from local driver Sam Shahin in third and debutant Liam Talbot in fourth.
Two 10-lap races remain for Porsche PAYCE Carrera Cup Australia for the Adelaide season opener – one race on Saturday and one race on Sunday – both of which will be broadcast live across TEN, Fox Sports 506 and streaming service Kayo.