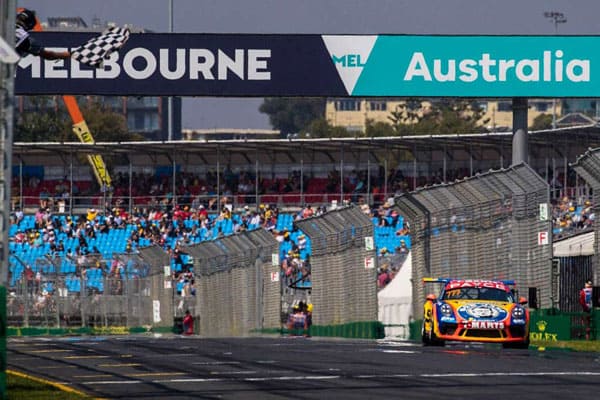 Love, Talbot star in opening thriller at The Bend
24 Aug 2019
|
News
|
When it came to the crunch, Porsche Michelin Junior driver Jordan Love has delivered in a key round of the Porsche PAYCE Carrera Cup Australia championship fight.
After two challenging rounds and needing to score strongly at The Bend Motorsport Park to secure the Porsche Michelin Junior driver prize this year, the 20-year-old West Aussie was under serious pressure entering South Australia but ultimately delivered in spades.
Pole position and a strong race one victory saw him do everything in his power to make Round six of the championship his best yet, securing his sixth race win of the season in style.
His closest rival in the Porsche Michelin Junior battle, Cameron Hill, finished an outstanding second while TAG Heuer Pro-Am winner Liam Talbot not only won his class but finished a remarkable third outright in the process.
The race was a typically dramatic affair with action from the first corner – however after seeing off an early challenge from Hill and Talbot, Love was ultimately able to pull a margin on the field en route to a key victory.
"We had a good start but then Cam and Talbot had some pace on us early on," Love explained of his early lap battles.
"They managed to get past us and we were side by side for a couple of corners there but I was able to do the criss-cross out of one. Once we got there it was just a case of head down and waiting for the tyres to come up.
"Once they did the pace was really good. Sonic put together an awesome package and I can't thank them enough.
"It's really nice for the championship. It's been a tough couple of rounds so to come back and get a pole and a couple of wins is fantastic."
Hill's second position saw him continue to apply pressure to Love in the Michelin Junior standings, while Talbot's outstanding third place eclipsed his previous best race finish by eight spots.
The Queensland-based, Wall Racing driver qualified sixth outright and then gained spots on the opening lap when Thomas Maxwell and Cooper Murray came together at turn one.
He then pressured – and briefly passed – both Love and Hill in a thrilling battle for the lead before trailing the latter home to secure a stunning outright podium finish.
"That was unbelievable!," Talbot said.
"We knew we had pace in qualifying and we managed to do the job. You have to plan in your head the race start – and the stuff that happens there is nothing you can imagine. It's about right place, right time. It really set up our race.
"The cars in front were two wide coming onto the straight and I thought 'I have to have a look there' and go for the lead.
"Third outright is awesome – unbelievable. I can't thank the guys at Wall Racing enough for putting it together for me."
Nick McBride finished fourth outright and was pressured to the line by David Wall, who was fifth.
In another giant-killing performance, Adrian Flack finished sixth outright and second in TAG Heuer Pro-Am. Warren Luff was seventh, Steven Richards eighth – his equal best result of the season – and Brenton Grove ninth on his return to the category.
Cooper Murray salvaged 10th position however the Townsville winner was a case of 'what could have been' after making a flying start from the second row of the grid.
Starting fourth, Murray was strong away from the line and challenged for second with Thomas Maxwell at turn one.
Maxwell had started second – his best ever qualifying performance – and held that position as the field negotiated the first corner. However, contact between he and Murray saw Maxwell spinning, only to collected by Murray who subsequently slipped down the field with damage to his right-front corner.
Michael Almond was also caught up in the incident; the 2018 Tailem Bend winner taking evasive action and spinning down the field.
While Maxwell retired from the race with damage to his left-rear corner, Murray was able to salvage a top-10 result despite front aero damage. Almond dropped to last, but stormed to twelfth position in a stout recovery drive.
The other key story-line was that of title leader Dale Wood, who could only manage 21st position.
After a challenging qualifying session saw him only 11th on the grid, the Polyfloor entry then suffered a puncture after hitting debris from the turn one, lap one drama early in the race. A second visit to pit lane for another puncture saw him cruse home last of the runners to salvage points and a now reduced, though still comfortable title lead.
Following the first of three races this weekend, Wood now leads the standings by a reduced margin of 152 points.
Jordan Love returns to second in the outright standings, with Warren Luff third and Nick McBride fourth. Cameron Hill sits fifth, just 41 points behind Love.
Sunday's program features two races, including the next instalment in the Enduro Cup series to be contested over 20 laps tomorrow morning.
The third and final race will likely decide the round with each to be shown live on FOX Sports 506.