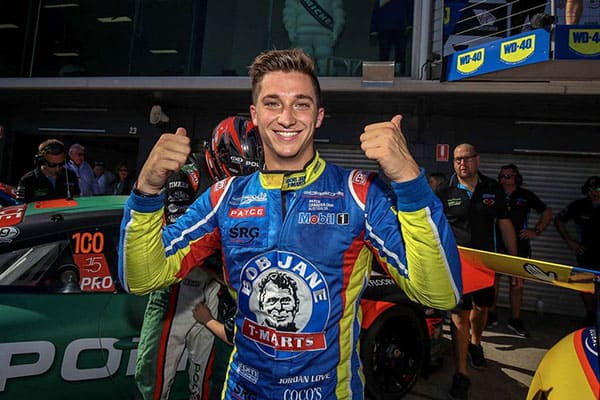 Love, Talbot claim maiden pole awards
12 Apr 2019
|
News
|
A pair of first-time TAG Heuer Pole Award winners have highlighted qualifying for the third round of the 2019 Porsche PAYCE Carrera Cup Australia Championship, today at Phillip Island.
Jordan Love stormed to the top late in the session to beat teammate Dale Wood to the outright pole for the first time, while Liam Talbot also saved his best to last in Qualifying to score his first TAG Heuer Pro-Am pole award.
Setting his fastest lap towards the end of the 20-minute session, Love's 1m30.7789s best edged out teammate and championship leader Dale Wood by just 0.03 seconds to secure an all-Sonic front row.
It means the Porsche Michelin Junior driver, who currently sits second in the championship, will line-up alongside the series leader in race one on Saturday morning.
"I'm pretty chuffed with that, it feels like a long time coming," Love said. "It's definitely one thing we were focusing on this year and certainly going into this weekend after the last two rounds. So yeah, pretty happy with that: now we've just got to try and get the rest of the job done across the next three races."
Round 1 winner Nick McBride utilised a risky strategy on his way to qualifying third, electing to use just one set of tyres in qualifying in order to save a set for Saturday's endurance championship opener.
The gamble paid off and the Porsche Centre Melbourne driver secured his spot on the second row, just 0.1s from pole and the only driver in the field to complete less than 10 laps in the session.
Warren Luff qualified fourth for McElrea Racing while Michael Almond and Tomas Maxwell ensured Sonic qualified all four of their cars in the top six today.
Michelin Junior Maxwell's sixth-place comfortably eclipsed his previous best of 11th, achieved in qualifying in each of the opening rounds this year.
Cameron Hill, David Wall, Cooper Murray and Josh Hunt completed the top-10.
The battle for TAG Heuer Pro-Am pole position went right down to the wire, with the top spot trading hands several times late in the session.
After Liam Talbot held a strong advantage early in the session, class leader Gilbertson charged to the top in the closing minutes – only to be beaten again by Talbot on his final flier.
It was the first TAG Heuer pole award for the Wall Racing driver, in just his third round competing in Porsche PAYCE Carrera Cup Australia.
"I'm stoked, that's a lot of effort. It's not easy to get a pole position out there and I couldn't be happier," Talbot said. "It's our first pole position in our third race meeting so yeah – I'm stoked!"
With Gilbertson on the front row in class for the third time from three rounds this year, Tim Miles and Roger Lago qualified third and fourth in class, respectively, with Sam Shahin and Adrian Flack next.
Action continues at the Phillip Island Grand Prix circuit on Saturday with the first race of round three doubling as the Endurance Championship opener.
The 24-lap race commences at 11:20am local time and will be quickly followed by Race 2 (14 Laps) at 2:40pm.
Both races will be shown live on FOX Sports 506 and Kayo Sports.