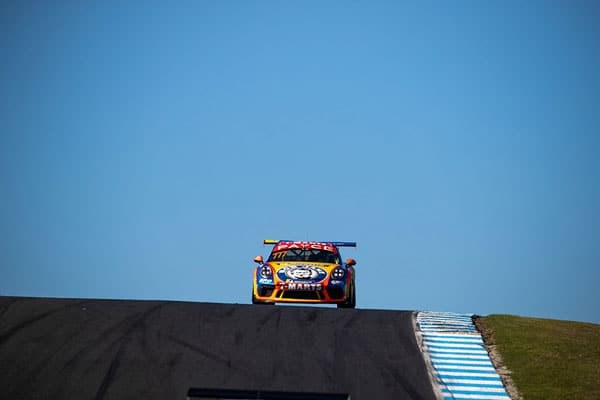 Love, Sonic sweep Phillip Island Saturday
13 Apr 2019
|
News
|
PORSCHE MICHELIN junior Jordan Love continued to establish his Porsche PAYCE Carrera Cup Australia championship credentials, dominating the opening two races in the third round of the 2019 championship at Phillip Island.
Meanwhile, Anthony Gilbertson and Stephen Grove shared the TAG Heuer Pro-Am honours, Gilbertson taking a commending win in the Enduro Cup opener while Grove took race two later in the day.
Starting from pole position for the first time, Love made a perfect start at the beginning of the 22-lap Endurance Cup opener and led teammate Dale Wood and Nick McBride into turn one.
He gradually built his margin over the race, ultimately taking a more than five-second victory to commence the long-distance portion of the championship in style with Wood and McBride behind. He then completed the same process in race two, leading from lights to flag to take his fourth straight victory and narrow the gap to championship leader Dale Wood, who was second, to 27 points.
Michael Almond completed a 1-2-3 sweep for the Sonic team, who have now won the last six straight races.
"It was good, going into that one I knew we had to get a pretty good start, Dale is really hard to race against, so the plan was to try and get him off the start which we managed to do," said Love after his dominant Enduro Cup race win.
"After that it was a focus on trying not to make a mistake and to stay smooth and consistent to try and keep the tyre under us which we managed to do, but yeah, it was good."
Love's second race win came despite pressure from his teammate as the pair spent a majority of the race in close company.
"He wasn't really letting me go then, Dale was there the whole time and so was Almond," Love said. "But 1, 2, 3 for the team so huge credit to them, they've done a mega job all weekend and it's been awesome. So huge credit to the team and we will try to do the same thing tomorrow, but I don't think it's going to come easily."
Dale Wood continues to lead the championship, finishing second in each race on Saturday behind his young teammate.
Nick McBride and Michael Almond look set to battle for the final step on the round podium in Sunday's final race, each grabbing one third and one fourth place across Saturday's two races.
McBride was third in the Enduro Cup opener, withstanding sustained pressure from Almond for much of the second half of the race. Roles were then reversed in race two as Almond slipped by early to complete the Sonic sweep of the top three places, with McBride finishing fourth.
With the top four in each race set, there were intense battles for the minors in each race on Saturday.
Warren Luff and Cameron Hill had a lock of fifth and sixth position, respectively, in each race while Thomas Maxwell, David Wall, Cooper Murray and Josh Hunt filled the top-10 positions in race one. Murray, Wall, Maxwell and Steve Richards completed the 10 in the second race.
The battle for TAG Heuer Pro-Am honours saw two winners in the two races, Anthony Gilbertson striking first thanks to a commanding victory in the Endurance cup opener on Saturday morning.
The Hallmark Homes driver led all the way to beat home Sam Shahin and Stephen Grove.
Liam Talbot, who had qualified on pole, failed to make the start after his car suffered a driveline issue before taking to the track.
"The car was really good, a little light in the rear around Honda in the first sort of five laps or so but I dealt with it well and it came on really well in the second half of the race, the times were pretty consistent," Gilbertson said.
"I don't think we really need to touch it too much for the second race so we'll just crack on."
Unfortunately for the race one winner, his second race unraveled early when he was slow away from the line. While working his way through the field, he and teammate Tim Miles made contact at turn one – spearing both off the circuit at high speed.
Grove, Shahin and a recovering Talbot were the main beneficiaries, the three battling furiously for much of the race.
Grove grabbed the win while Talbot passed Shahin late to grab second having started last. Gilbertson recovered to eighth in class to salvage points for his championship lead.
"That was tough, to start a fair way back on the grid in race two, to get up to third and then push on to get a win, that was really special," said Grove, who will commence his Porsche Mobil 1 Supercup campaign next month.
"It was really hard work the boys kept coming for me and pushing and pushing me so to get that win was quite sweet. It's a tough track here, you need to be fairly committed, so it's fantastic."
The third and final race of the weekend will commence at 12:45 pm (local time) at the Phillip Island Grand Prix circuit, and will be shown live on FOX Sports 506 and Kayo Sports.