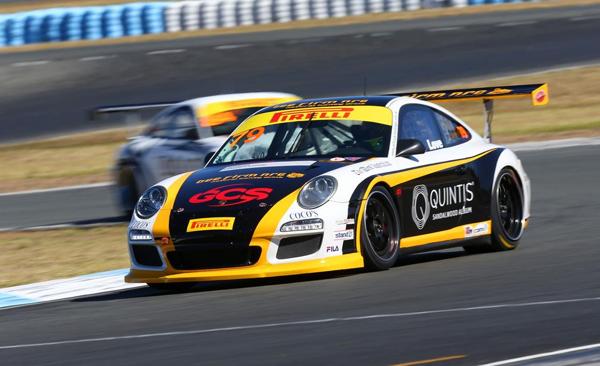 Love Secures Endurance Title in Queensland
11 Aug 2017
|
News
|
Porsche Junior sweeps Jim Richards Endurance Trophy races
West Australian Jordan Love has won the 2017 Jim Richards Endurance Trophy at Queensland Raceway, becoming the first driver to secure the honour with a clean sweep of endurance race victories.
Love dominated the opening race of the penultimate Porsche GT3 Cup Challenge Australia presented by Pirelli round, moving past Brenton Grove after an early safety car intervention – caused by Brett Boulton's opening lap spin into the turn three run off – before establishing a gap on the field.
Love maintained a healthy race lead until the safety car was recalled to the circuit on lap 36 when Rob Woods and Shane Barwood spun into the turn three gravel trap after battling for eighth and ninth position, forcing the race to finish until safety car conditions.
The win handed Love the Jim Richards Endurance Trophy title and an extended 70 point lead in the outright standings.
"I'm thrilled to secure the Jim Richards Endurance Trophy, which was certainly my key focus heading into today," said Love. "We had a great race, though it didn't come easily; the weather was fairly hot and I wasn't wearing a cool suit so it proved testing throughout the race, so I am stoked with the outcome."
Once losing the lead, Grove drove a consistent race to finish a clear second place, with leading Elite Class racer Anthony Gilbertson unchallenged in third. John Karytinos placed fourth, holding Sam Shahin at bay until the late race safety car and subsequently chequered flag.
The result placed Gilbertson third in the endurance standings – behind Love and Grove – and promoted him to the lead of the class standings for the first time since scoring pole position at the season opening Sandown round.
"I'm stoked with the Elite Class race win and also to place third in the endurance championship," said Gilbertson. "It couldn't have worked out better moving into the class lead at my home track. I've just got to keep my nose clean for tomorrow's two races and hopefully extend my class lead by the end of the weekend."
John Morriss drove an impressive race, coming through from towards the rear of the field to place sixth, while Ross McGregor too performed strongly during the endurance race with seventh outright by the finish, his equal best result of the season.
Brendan Cook was the victor in the epic race-long Class B battle, which saw he and David Greig swap positions several times throughout the 40-lap race. Greig placed ninth from Tony Martin, Phil Morriss and Barwood in 12th.
Woods and Boulton were the only two non-finishers for the race.
Race two and race three from Queensland Raceway will be held on Sunday, both of which can be viewed via the Shannons Nationals Live Stream at www.thenationals.com.au.
Race Schedule
Sunday August 06, 2017
10:00am Race 2 (12 laps)
12:45pm Race 3 (12 laps)
Results: Race 1
1. #79 Jordan Love (Professional Class) Sonic Motor Racing/Quintis – 40 laps, 01:00:31.8237s
2. #23 Brenton Grove (Professional Class) Grove Hire – 40 laps, 01:00:32.3851s
3. #19 Anthony Gilbertson (Elite Class) Hallmark Homes – 40 laps, 01:00:34.2952s
4. #16 John Karytinos (Elite Class) Richmonds Automotive – 40 laps, 01:00:34.5434s
5. #13 Sam Shahin (Elite Class) HTFU – 40 laps, 01:00:36.2929s
6. #34 John Morriss (Elite Class) Motorsport Leasing P/L – 40 laps, 01:00:37.6387s
7. #99 Ross McGregor (Elite Class) Southern Star Windows – 40 laps, 01:00:38.6974s
8. #11 Brendan Cook (Class B) Cairns Steel Fabrication – 39 laps, 01:00:32.9298s
9. #87 David Greig (Class B) 39 laps, 01:00:33.9018s
10. #9 Tony Martin (Elite Class) The Triffid Bar + Venue – 39 laps, 01:00:35.3533s
11. #88 Phil Morriss (Elite Class) Morriss Racing Services – 39 laps, 01:00:37.0328s
12. #21 Shane Barwood (Elite Class) Melbourne Orthopaedic Group – 37 laps, 01:00:39.6878s
DNF #29 Rob Woods (Elite Class) Platinum Nightclub – 34 laps, 50:24.0609s
DNF #84 Brett Boulton (Elite Class) Bold Living