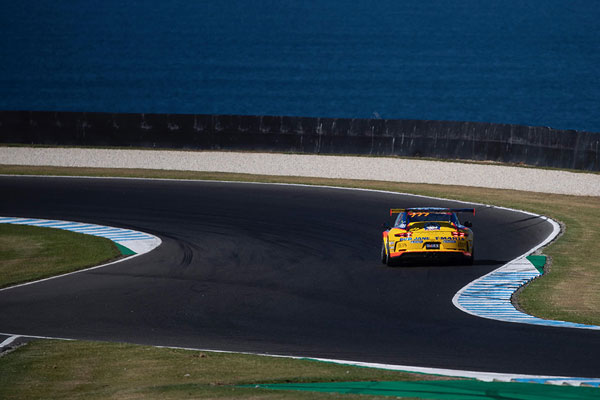 Love leads the way at Phillip Island as Sonic sweeps
14 Apr 2019
|
News
|
A dominant Jordan Love has completed his best ever weekend in the Porsche PAYCE Carrera Cup Australia Championship, winning the third race at Phillip Island to complete a clean sweep of the weekend.
Liam Talbot won the TAG Heuer Pro-Am race, while Stephen Grove took the round to move into a tie for top spot in the all-time winners list.
Having already won the first two races on Saturday, Love led from pole position in Sunday's 14-lap affair and immediately built a strong lead. He then survived a race restart and pressure from teammate Dale Wood to take his fifth straight race victory, his second round win overall and lead a Sonic Motor Racing 1-2-3 result of the round three podium.
Championship leader Dale Wood and Michael Almond completed the round sweep for the Melbourne-based team, who have now won the last seven races straight in the championship; finishing 1-2 in six of them.
"It was a good weekend; it doesn't get much better than that!" said Love, also the Porsche Michelin Junior class leader.
"A pole and three race wins: I can't thank the team enough. As soon as we rolled the car out of the truck on the Friday it was absolutely mega, so can't thank them enough and hopefully we can do the same thing in a months time up in Darwin."
Love's stunning weekend closes the margin to leader Wood in the championship to just 21 points ahead of the next round in Darwin, this June.
Dale Wood has now finished second in the last five races and retains the series lead, while Almond's podium was his first since Tailem Bend last August.
Behind the Sonic sweep, Nick McBride finished fourth in race three and in the round, while David Wall rebounded from a challenging Saturday to finish fifth.
In a race filled with furious battling for a spot in the top five, Tomas Maxwell, Josh Hunt, Steve Richards, Cooper Murray and Duvashen Padayachee completed the top-10.
In the battle for TAG Heuer Pro-Am, Liam Talbot completed a strong rebound from his race one non-finish by taking his fourth race win of the season in race three.
The first-year Carrera Cup racer quickly worked his way to the front of the class and chased several Professional class contenders in the run to the flag.
Talbot also secured a spot on the podium, finishing second in Pro-Am for the round, behind Stephen Grove and in front of championship leader Anthony Gilbertson.
Grove's round victory was his 13th in the championship, the equal most of all-time in Porsche PAYCE Carrera Cup's pro-am class to tie him with Max Twigg.
The Melbourne driver, who will commence his first Porsche Supercup season next month, said this weekend ranked as one of his most challenging.
"That was a pretty sweet win, it was tough, and we had to fight all weekend," Grove said. "There was a lot of passing, I don't think I've done that much passing for many years now. Everybody was on their game, so to come away as the winner was fantastic."
Regular TAG Heuer Pro-Am contender Sam Shahin and Warren Luff were early non-finishers in Sunday's race: Shahin squeezed onto the grass at turn four on the opening lap. Luff was in his path as the out-of-control The Bend Motorsport Park car made contact with the Pro class contender, who has earlier been forced wide at turn three and was further down the field than expected.
That incident necessitated the sole Safety Car interruption of the weekend, lasting for just one lap as the cars were quickly recovered – Shahin under his own power.
After three rounds, Dale Wood's outright championship lead has been reduced to 21 points thanks to Jordan Love's streak of five race wins in a row.
Nick McBride climbs back to third in the standings, with David Wall fourth and Warren Luff fifth.
In TAG Heuer Pro-Am, Anthony Gilbertson retains the series lead following the first three rounds.
With Grove to miss several rounds on account of his Supercup commitments, his closest title challenger is now Liam Talbot who sits 38 points behind the McElrea Racing driver. Roger Lago sits a further 17 points further back in fourth with Sam Shahin fifth.
Following a busy start to the season, the Porsche PAYCE Carrera Cup Australia Championship takes a well-earned break prior to the next round at Hidden Valley Raceway in Darwin, on June 12-14.