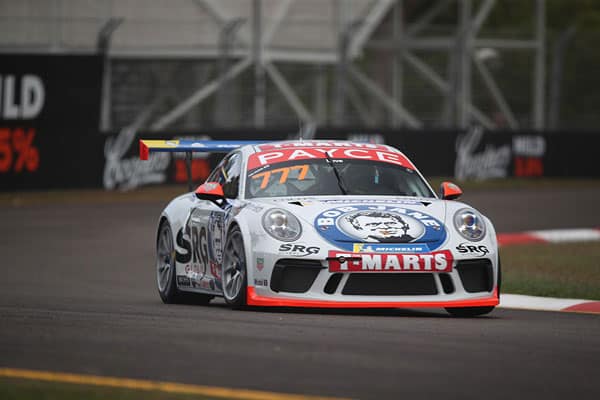 Lago and Murray make history in Race 1 in Townsville
06 Jul 2019
|
News
|
Roger Lago and Cooper Murray rewrite the history books in qualifying and Race 1 of the Porsche PAYCE Carrera Cup Australia in Townsville.
Qualifying and Race 1 of the Porsche PAYCE Carrera Cup Australia Championship had it all. Australia's premier one make series witnessed records tumble, history made and new race winners crowned. Not to mention the usual, intense on track battle the series has become synonymous for.
The action started in qualifying early on Saturday morning. After uncharacteristic wet conditions plagued the North Queensland practice sessions on Friday, clear and cool tropical skies greeted the Porsche PAYCE Carrera cup Australia teams as they ventured onto the track for qualifying. While Dale Wood and Anthony Gilbertson were consistently quick through the Friday's practice sessions, both felt that with the right conditions, the pace on Saturday would be even quicker.
They weren't wrong and from the first lap, it became apparent that the track was only going to get faster as the session went on. Michelin Junior drivers Thomas Maxwell and Cooper Murray surprised many by setting the early benchmark. Michael Almond then showed the signs of his consistent form from Darwin, topping the table by the halfway mark.
By contrast, Nick McBride ran off the circuit and lost time in the pits repairing a broken front spoiler. Steve Richards would compromise his first set of Michelins by flat spotting them over the bumps under braking, while Dale Wood ran wide, narrowly missing the retaining wall. The ABS advantage the TAG Heuer Pro Ams enjoy over the Pros saw Anthony Gilbertson continue to head the Pro Am class for most of the session, but a last minute lap from Roger Lago would leave mouths agape and stun all in pitlane.
Lago who heavily crashed out of this event in 2015, not only broke the outright pole record – previously held by McElrea Racing's Alex Davison – but topped the overall time sheets. This was the first time in Porsche PAYCE Carrera Cup's history a Pro Am driver had out qualified the entire Pro field. After the session Lago paid tribute to his Race engineer Dave Russel, "First run was 14.5 on greens and I thought that's 0.8secs faster than I went yesterday. I said to Dave surely that's enough for Pro Am, but he replied that Gilbertson had just done a 14.2, so I one last attempt to get a few more tenths."
"I put my sectors together and looked down and saw a 13.5 as I crossed the line. Dave just erupted on radio and said mate you just got pole! Obviously the ABS makes it that bit easier for us around this circuit, but you still got to put the lap together."
Cooper Murray would also put in his best qualifying result of the year in second, just in front of his McElrea Racing team mate Warren Luff. The attention then turned to Race 1 and as the lights went out, the 17 year old Michelin Junior had a near perfect get away jumping Lago into the first turn.
The McElrea driver then increased his lead to over 5 secs as Luff and the rest of the field battled one another behind Lago. Luff, Almond and Wood all gradually made their way past Lago with 8 laps remaining, but by then Murray's advantage had grown to over 7.4secs which he held to the chequered flag. Wood's result means he is now 188 points clear of his nearest rival Nick McBride. McBride, Luff, Wall and Love occupy positions 2 to 5 in the overall Championship – with only three points separating the quartet.
After the race Murray remarked, "I managed to get a good start and control the race from there. The competition level in this field is amazing and to get that first win by that margin feels pretty good." Lago would lead the TAG Heuer Pro Am class home in fifth position overall, with Cameron Hill holding on for 6th after his flying lap was impeded in qualifying, seeing him start in 7th. Despite showing good pace at separate times over the weekend, fellow Michelin Juniors Thomas Maxwell and Jordan Love will not look back on Race 1 fondly.
Love's run of bad luck continued as Maxwell tagged him mid race dropping the Bob Jane T Marts driver down the order. Maxwell race would be compromised too after he was handed a drive through penalty for his efforts. The accident means that Love will start in 12thposition for the Race 2 tomorrow. Murray's victory makes him the youngest victor in Porsche PAYCE Carrera Cup history and marks a return to the podium for the McElrea team with Warren Luff in second.
After the race, team manager, Andy McElrea said, "I'm thrilled, it gets harder and harder to win a race in this category, so to get a 1-2 is almost unbelievable, especially for Cooper coming across to us mid-season. I feel he's repaid his faith in us and us in him. Then there's the ultimate wingman Luffy's (Warren Luff) result, not to mention Anthony Gilbertson in second in Pro Am, so at this stage I couldn't be happier."
The Sonic vs McElrea battle will resume in Races 2 and 3 on Sunday. Both races will be televised live on Fox Sports (Channel 506), Channel 10 and Kayo.