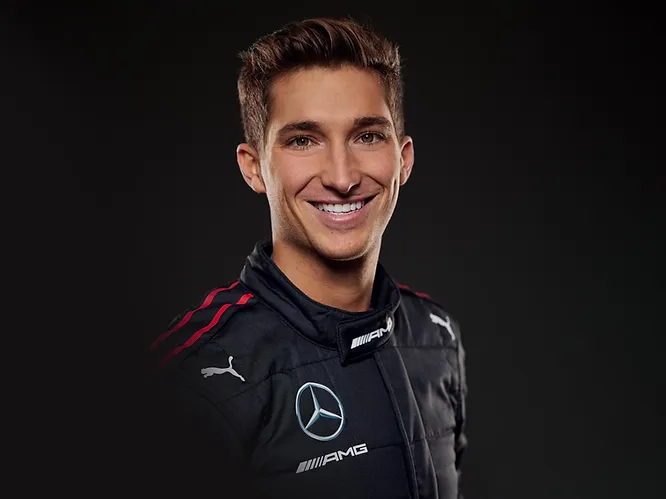 Jordan Love joins Mercedes-AMG 2023 Junior Driver lineup
04 Apr 2023
|
News
|
JORDAN LOVE JOINS MERCEDES-AMG 2023 JUNIOR DRIVER LINEUP
MB Partners are delighted to announce that Jordan Love has joined the Mercedes-AMG driver line-up for the 2023 season as a Junior Driver.
The announcement sees Jordan join the ranks of the Affalterbach based team as part of the Junior Driver line-up which looks to nurture up and coming talents and help them gain vital experience in the highest levels of motorsport.
Jordan has already racked up plenty of racing mileage with the Mercedes-AMG GT3. Among others, he successfully raced in the highly competitive GT World Challenge Europe for various Mercedes-AMG customer teams in the past two seasons and will be showcasing his abilities in 2023 once more. This season sees Jordan racing in GT World Challenge Australia, the Nürburgring Endurance Series and the ADAC TotalEnergies 24h Nürburgring as part of the Mercedes-AMG driver line-up.
Looking ahead to the season, Jordan is ecstatic to have the opportunity to represent the Mercedes-AMG brand in an exciting new step for his career.
"I'm delighted to be joining the Mercedes-AMG family as a junior driver!" Jordan said. "This is a huge step in my career and something that not only myself but, my supporters, partners and family have been working towards since this crazy journey began. I can't thank everyone involved enough, especially Stefan and the entire team at Mercedes-AMG for this incredible opportunity, and the team at MB Partners for their continued support. I look forward to sharing my programs for the 2023 season. The hard work is far from over, in fact it's only just the beginning, and I cannot wait to get the season underway!"
Mark Blundell, CEO of MB Partners added:
"We're very excited to announce that Jordan has been selected as part of the elite Mercedes-AMG driver line-up for 2023. This is testament to Jordan's commitment and racing prowess, and to be given the opportunity to represent this iconic brand in the world's biggest GT racing events is fantastic."