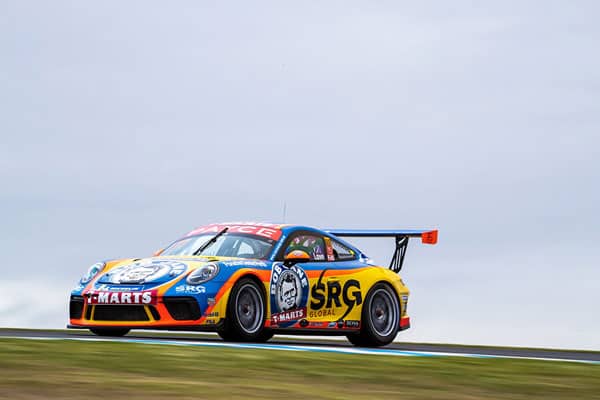 Four-straight for Love as Flack steals Pro-Am win in final turn
11 Oct 2019
|
News
|
Jordan Love's resurgence as a Porsche PAYCE Carrera Cup Australia title contender has continued unabated, the Sonic Motor Racing driver storming to his fourth straight victory in a pulsating Enduro Cup race at Mount Panorama today.
Meanwhile, Adrian Flack won the TAG Heuer Pro-Am class after a stunning last-corner pass on Liam Talbot saw him steal victory literally within sight of the flag.
Starting from the second row of the grid, Love stormed off the line to pass polesitter David Wall at turn one and early leader Nick McBride with a bold move around the outside at turn two moments later.
He then withered attack after attack from Wall and Cooper Murray, plus a near-miss at the Dipper late in the race, to take his ninth win of the year and his fourth in a row. The result reduces Dale Wood's championship lead to 66 points, Love's Sonic teammate finishing fifth in today's 15-lap race.
Love also assumes a clear lead in the Endurance Cup standings with a round to go.
"It wasn't a good start, to be honest, the launch wasn't that great but I was lucky it was narrow so Cooper couldn't get past Wall," Love explained of the opening laps.
"I got around the outside of Wally and then had a big crack around the outside of McBride, which doesn't usually work but I had to work really, really hard for that one – so I'm pretty happy.
"I think we had a bit of confidence early on. It was a bit damp across the top and I had a bit more confidence than the others, so when that cleared it was a different story."
Love said that despite his win, he was still searching for more from his Sonic Motor Racing Porsche. "I'm still lacking a bit of pace so we'll tune that up tomorrow. It's all about championship points and we just need to be smooth, clean and consistent."
The race was held in dry but challenging conditions with light rain around the circuit at the beginning. Love's opening lap was immense and in slippery conditions at the top of the Mountain he quickly built a margin, while a slow-starting Wall staved off Murray in the battle for second
McBride slipped to fourth while Cameron Hill led Wood in fifth and sixth in the early stages. Hill was an unfortunate non-finisher after light contact between he and McBride while battling for position at turn two saw his steering damaged; the Michelin Junior parking his Porsche on the entry to the Cutting and bringing out the Safety Car.
That elevated Wood to fifth position and Steven Richards to sixth – the latter finishing in that position to record his best finish of the season.
Wood fended off both Richards and Michael Almond in their race-long battle for a spot in the top five with the championship leader doing enough to secure a solid points haul; ensuring his series advantage remains more than one full race victory.
With Almond seventh, Thomas Maxwell enjoyed a consistent race to eighth position while the final two spots in the top 10 were completed by a stunning race-long battle for TAG Heuer Pro-Am honours. Class polesitter Liam Talbot and fellow title rival Adrian Flack – the pair tied on points entering the round – battled all race for the victory with the result coming down to the final corner.
Flack executed a massive lunge into Murray's and snuck through to steal the race in the final corner. Talbot, trying to get on the throttle to get an over-under pass, promptly spun his car however was able to recover in time to save second place in class.
Stephen Grove finished third in class with TAG Heuer Pro-Am leader Roger Lago fourth.
"It was a great stoush!" a justifiably thrilled Adrian Flack said post-race.
"I was having a great run behind him (Talbot) and to get in front of him at the end was a good result.
"You just want a good race with your fellow competitors but in the end of the day wins are the most important!"
Race two will see the championship return to sprint racing while the third race will be contested on Sunday morning in the lead-up to the 2019 Bathurst 1000.
Both races will be shown live on FOX Sports, Kayo Sports and Channel 10.