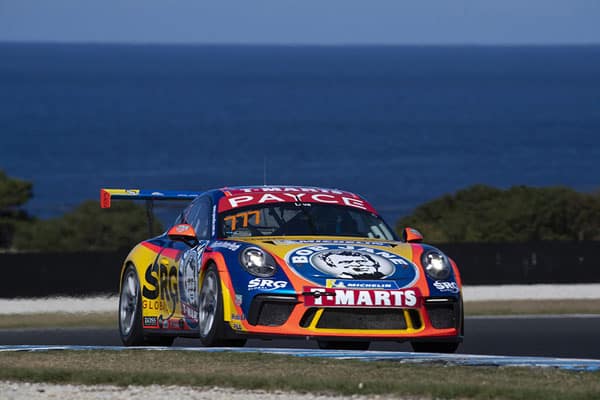 Drought ends for Wall as Love seals Enduro Cup
26 Oct 2019
|
News
|
DAVID WALL has ended a year-long race winning drought by sweeping to victory in the Porsche PAYCE Carrera Cup Australia's Enduro Cup decider on the streets of Surfers Paradise.
In a pulsating 25-lap affair, Wall headed home title contender Jordan Love and Cooper Murray today to take his first win since Bathurst last year. Jordan Love's second position not only extended his lead in the overall championship, but also clinched the Sonic Racing driver the Enduro Cup championship for 2019.
Also tasting success on the streets of Surfers Paradise was Sam Shahin, who was never headed en-route to TAG Heuer Pro-Am success and an outstanding ninth outright finish in the process.
Wall's ninth career win came in style as he executed a perfect race start and controlled the race from the outset.
Surviving an early Safety Car restart, he pulled away from Love and Cooper Murray who spent the entire duration battling for second, position and ultimately won by five seconds.
"I feel like we've been close to that all year, I just couldn't get the car off the line," Wall said.
"It's great to finally get the win on the board again. We're trying to do all we can to stay in this race but young Jordan finished second. We'll just keep our head down and see what we can do.
"We gave up a few this year through mistakes and not getting things right but we came good and it's good to get a win.
"Thoroughly enjoyed that race and racing on the streets of the Gold Coast – we'll keep bouncing off those kerbs and see what we can do tomorrow."
Love fended off attack after attack from Cooper Murray, ensuring he finished with one car between he and direct title rival Dale Wood, who was fourth.
With Murray disrupting the inter-team Sonic Racing team battle Love's overnight lead of two points has now stretched to 14 heading into Sunday's pair of sprint races.
Murray's podium was his sixth from the last six straight races, while Wood had a quiet run to fourth place, finishing three seconds behind Love but two clear of Cameron Hill in fifth.
Hill made a flying start and passed both Nick McBride and Michael Almond on the opening lap to climb into the top five. Almond was another improver, gaining two spots to finish sixth, while McBride dropped two spots to seventh.
After his slow start, McBride spent much of the race dicing with Thomas Maxwell with the pair ultimately making contact in the final turn late in the event – the latter forced to pit lane with damage while McBride was able to finish without dropping a spot.
Steven Richards was another mover and shaker, gaining two spots, while Sam Shahin finished just behind the Bathurst champion and first of the TAG Heuer Pro-Am runners in a potentially championship-changing day for the Carrera Cup 'race within a race'.
Starting from the class pole, Shahin was away strongly and settled into a comfortable class lead as drama unfolded on the opening lap.
A big move from Pro-Am class leader Adrian Flack on the opening lap saw him slice down the inside of Tim Miles at turn eleven – failing to stop the car in time, making contact with the tyre barrier and ending his race on lap one.
It was a potentially championship-changing moment for the Queenslander as he saw a provisional lead slip to third place in the TAG Heuer Pro-Am standings with two races remaining.
With a 'drop your worst round' calculation to come, Liam Talbot provisionally leads the class over Roger Lago and Flack.
Shahin, meanwhile, was untroubled by those dramas as he powered to his fifth career class victory in The Bend Motorsport Park entry.
"I'm just so happy. It's customary to thank a lot of people after a race win, but I really feel like I've worked my butt off all year but just haven't had the results to show for it.
"It's been disheartening to go to some tracks and not walking away with the results, but after my incident here last year I really came committed to do well and I'm so relieved.
"This is satisfying on so many levels. It's a mental commitment to performing and I had to keep my head straight for the entire race – it's pleasing on a lot of levels."
Talbot finished second in Pro-Am while Miles was third; his first podium finish since Townsville in July. Today's race sets up a winner-take-all finale' tomorrow in both classes, with 120 points up for grabs across a pair of sprint races on the Gold Coast.
Love leads Wood in the outright championship battle by 14 points while victory today for Wall means he remains in contention; 74 points behind the leader.Both races will be shown live on FOX Sports 506 and Kayo Sports with the decider also shown on Channel 10.
STANDINGS – ENDURO CUP
1. Jordan Love 286
2. David Wall 259
3. Dale Wood 251
4. Cooper Murray 235
5. Nick McBride 229
STANDINGS – OUTRIGHT CHAMPIONSHIP
1. Jordan Love 985
2. Dale Wood 971
3. David Wall 897
4. Nick McBride 809
5. Cooper Murray 773