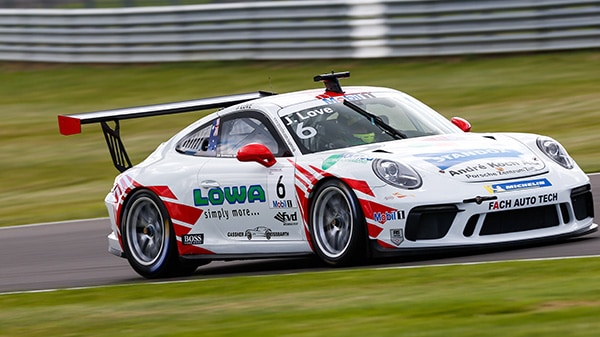 Doubleheader in the UK
30 Jul 2020
|
News
|
The Union Jack will be flying over FACH AUTO TECH's next two weekends and there'll be two Porsche Mobil 1 Supercup races coming up at the British Silverstone Circuit. Alex Fach and his drivers Jaap van Lagen and Jordan Love start the first event on 31 July to 2 August.
Last year, the 2019 race in Towcester was a good hunting ground for the Sattel-based team. Florian Latorre's second place in qualifying laid the foundations for the first podium of the season. This is also the goal for the two coming weekends.
"We've continually improved over the last weeks, but we are not where we want to be yet. So we must focus intensely on getting there. Obviously, we want to eventually finish on the podium – that's our objective", Team Principal Alex Fach explains.
Jaap van Lagen has years of valuable Porsche 911 GT3 Cup experience on the British circuit. The Dutchman's maiden drive in the Porsche Mobil 1 Supercup on the track took place in the 2007. The 5,901 kilometre Silverstone Circuit ranks as demanding. It's blend of straights, fast and slow chicanes guarantees pure race action. Illustrious names such as Maggots, Becketts, Woodcote and Hangar Straight are recognized by racing fans all over the world.
It will be a premiere in the "Home of British Motor Racing" for team youngster Jordan Love. The Australian will be doing his first laps in Free Practice on Friday, 31 July. Qualifying is scheduled for Saturday, at 12:45 local time (13:45 CEST). The race itself starts on Sunday, 2 August at 11:25 local time (12:25 CEST) and will be broadcasted on SPORT1 as well as Eurosport 2.