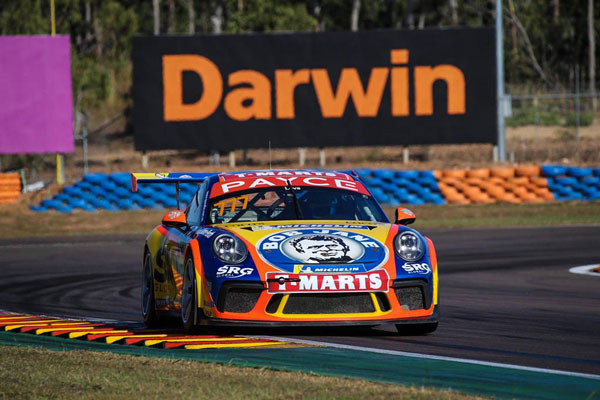 Almond, Flack make it four from four in Darwin
16 Jun 2019
|
News
|
Four from four – that's the statistic following victories by Michael Almond and Adrian Flack (TAG Heuer Pro-Am) in the fourth round of the 2019 Porsche PAYCE Carrera Cup Australia in Darwin.
A win in the third and final race of the weekend delivered South Australian Michael Almond the overall victory for the second time in his career, while Adrian Flack completed a sweep of all three races to win the Pro-Am round in style.
Almond is the fourth different outright winner from four rounds this year, while Flack adds his name to three other winners after four rounds of TAG Heuer Pro-Am competition.
For the second successive year Darwin delivered remarkable Carrera Cup action with three winners from the three races.
Championship leader Dale Wood won race two, beating Almond and race one winner Cameron Hill after he grabbed the lead mid-race.
That set up a winner-take-all finale' with the three drivers tied on points heading into the last race of the weekend.
Wood led early, however a perfectly-judged move mid-race saw Almond take the lead at turn one and then hold out his Sonic Racing teammate to take an impressive race, and round, victory.
He joins Nick McBride, Jordan Love and Wood as round winners this season, while Wood (second) and Hill (third) completed the Darwin podium.
"It's been a while, since Tailem Bend last year. I've had a few good results but a bit of bad luck and the consistency hasn't been there," Almond said.
"I got away with it there with the move in the last race. I learned with the Safety Car we had in races one and race two how to manage the front tyre and probably caught Dale out with the braking ability.
"He gave me plenty of room, but he was catching me at the end so I was glad when the flag came. We played it smart and it came out well."
Flack's TAG Heuer Pro-Am victory was his first since the Gold Coast last season, and the third round win of his Carrera Cup career.
He took the top step of the round podium ahead of The Bend Motorsport Park driver Sam Shahin, and Roger Lago.
"It's been a tough year for us, having some incidents earlier in the year, so it's great for us to bounce back from that finally. I couldn't be happier," Flack said.
"All the pre-work to the event paid off, we came up with a good setup out of the gate and it was on fire. To contend with the pros and hold our own, we kept out of trouble as well. To come away with the win is absolutely awesome.
"To have that confidence to give it a red hot go and we're looking forward to Townsville."
As is typical in Darwin, Sunday's pair of races created plenty of drama with several key contenders enduring challenging weekends – none more so than Jordan Love.
Second in points coming into the round, Love was the biggest to fall after he was the innocent victim in a crash on the opening lap of race two.
As the field negotiated the exit of turn five, Liam Talbot's Wall Racing entry was tagged by another car and subsequently sent spearing across the infield towards turn six.
He unfortunately collided with Love's Porsche as the Sonic entry negotiated the corner, sending both out of the race.
Love, who won at Phillip Island last time out, was taken to Darwin hospital following the incident and diagnosed with a broken bone in his left hand. The Porsche Michelin junior driver will return home to Perth tonight (Sunday), and will consult with a specialist on Monday.
Talbot reported soreness in his left ankle and foot, and was checked and released in the circuit medical centre.
The incident left the field behind the Safety Car, prior to a dash to the line that saw Wood take his first race win since the Grand Prix in March, while Flack won Pro-Am ahead of Roger Lago and Anthony Gilbertson.
The stage was set for a combative final race with Wood, Hill and Almond tied on points heading into a winner-take-all scenario for the round victory. A lap one, turn five drama claimed Thomas Maxwell, Nick McBride and Duvashen Padayachee.
Another Safety Car interruption saw the race restart several laps later, Almond wasting little time before passing Wood to take the lead and, ultimately, the round win.
Flack won Pro-Am for the third-straight race with Tim Miles a remarkable second – bouncing back from his massive turn one accident in race one – and Shahin third.
At the half-way point of the Porsche PAYCE Carrera Cup Australia Championship, Dale Wood has extended his lead to a considerable 165 points heading into the next round in Townsville in three weeks time.
The battle for second has become increasingly tight with 52 points – less than one race win – covering second to seventh in the standings.
McBride sits seven points behind Love, while David Wall, Warren Luff, Cameron Hill and Michael Almond are all within striking distance – big weekends from the latter pair keeping them well in contention.
The Darwin weekend has also energised the fight for TAG Heuer Pro-Am, with Anthony Gilbertson holding a narrow 13-point lead over Roger Lago after four rounds. Sam Shahin sits a further 15 points further back in third with Liam Talbot and Stephen Grove fourth and fifth, respectively.
The Porsche PAYCE Carrera Cup Australia championship will take a three-week break before continuing their Northern swing when the series returns to the streets of Townsville this July. The championship has not raced in the North Queensland city since 2015.
Provisional Championship points – After 4 of 8 rounds.
1. Dale Wood 640
2. Jordan Love 475
3. Nick McBride 468
4. David Wall 463
5. Warren Luff 439